Some of C-3PO's adventures
GONK Droid


Droid Armor Parts:
I built a costume to be wearable and function just like the movie costume. Click here for more information.



Droid Head:

StarbuckCylon makes a great wearable vacuformed C-3PO head kit for builders that is screen accurate in size and details.
Another wearable vacuformed kit comes from MONCAL, copied from a screen used head.



Neck Piece:
I made a neck piece from one of those large plastic "For Sale" signs by cutting a strip and painting it with the Plasti-Kote paint. Later I curved the neckpiece and affixed adhesive gold mylar paper for a chrome finish. In back, I used velcro on the inside to close it - the parts meeting together at the back with a velcro piece against my neck facing towards the inside of the neck piece, connecting the two.


Eye Lights:
No wiring needed! I got this "Rice Battery Lights" bulb string (not LEDs) on ebay for about $9 shipped. It has a switch and runs on 2 AA batteries so it's self-contained. There are about 11 clear lights on a strand and they are the PERFECT size. Very tiny, LED sized bulbs. You can cut off the extra lights and the remaining lights continue to work - 6 is all you need (3 for each eye). I tried them out and they look great. I used white reflective tape to cover the backs of the eye lenses. They're visible even with a super bright camera flash.




Sound Effects:
Randy will customize a sound board for you with whatever sound files you want, triggered by a hand-held, 4-button pad. His price is under $100 I believe. I sent him some servo sounds and you can hear it in Additional chips can be switched out and are available for about $25 each so you could use the same board for several costumes but have a different sound chip for each.
John at ROM/FX has also made a great system for C-3PO costumers for adding the servo sound effects to your suit. Now when you move, your suit will make the machine-like whirring sounds with every step or arm movement. His set up is around $200
Free Sound Links:
sounds.zip
MovieWavs.com



Chest Buttons:
C-3PO has four small knobs on his chest. Three are small and one is larger. For the small ones, "Clutch Earring Backs" are accurate and can be found on ebay. I'm still trying to figure out what the larger one is!




Bespin Escape Threepio:
Reference photos here: Empire Strikes Back Screencaps
Finished photos on Flickr.
In "The Empire Strikes Back", C-3PO wanders into a Cloud City maintenance room and is blasted to pieces by Stormtroopers. Chewbacca partially reassembles him and carries him on his back as they make their escape and R2D2 is left to pick up the pieces.
This is a re-creation of C-3PO in his badly damaged and semi-assembled state. I used my own parts to build him. Inside the torso I made a simple T-shaped pvc-pipe mannequin inside to keep it upright. The arm has been suspended within the torso using a bungee cord and can be puppeteered with a string the same way the film crew did in some shots in the film. I added sound effects by loading looped sounds onto an MP3 player plugging into a speaker. For wires, I used old computer wires and a couple automotive wiring harnesses. I cut the blast hole using a Dremel, then added several layers of blobs of hot glue. Blob some on, let cool, then add another layer. Repeat. For the bottoms of his feet, I cut pieces from gator board or foamcore. For the exposed knee joint, I used pieces of styrene (or a For Sale sign) and pieces of foamcore.
If you've got a Wookiee costume, this droid can be worn on your back using the included fishnet. Fishnets available on ebay. If you've got an R2 unit, you can build one and tow this droid on the ground behind R2.



GONK Power Droid


I built this Gonk Droid costume for about $40 using storage bins and other parts. Tutorial info included on the images. Click here for my screencaps of Gonk droids in the Star Wars movies. Other fan-made Gonk droids can be found here.
Rubbermaid has released a new 35 Gallon Latching Tote and I just saw these at both Target (in gray for $10) and Home Depot (in blue for $11). The cool thing is they are smooth without any of the common swoopy handles or notched sides and have a more stumpy shape for such a large tub. I couldn't resist stacking them right there in the store and they are a great size and shape - a bit bigger than my GONK, which is what I think is needed.
Here's my list of parts:
18 or 35 gallon storage bins
garage door bottom seal
8" square baking pan
2 round plastic food containers
pack of long zip-ties
ribbed hose
dryer vent hose
1 sheet foamcore (also called gatorboard)
some square and round greeblies
sheet of ABS plastic
flat round disc or lid
Cutting out the side slots is not necessary to build a believeable Gonk droid. If this is for a costume, cut the bottom out of the lower tub so the wearer's legs can move freely. Also, the feet can be sculpted from Home Depot foam, then coated with "Sculpt or Coat" for strength.


$19.99
Bad Robots
T-Shirt
Power Converters not included.

These droids aren't bad, just drawn that way. Art by Chris F. Bartlett. Printed on 4.5oz, 100% soft spun cotton, fitted t-shirts. Sporty v-necks for the girls. Not your father's boxy tees.




Photos and Video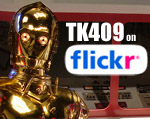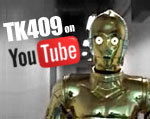 Chroming:
The results are in and I'm very pleased!

The process is called "Vacuum Metalizing" and Vacmet.com located in southern CA. Don Bies has confirmed that VMI is the shop that did the original C-3PO chrome suits for Lucasfilm. Kevin Franke at Vacmet charges $500 for as many pieces as can fit inside the metalizing chamber. The entire Threepio suit will fit in two chambers totalling about $1000. I've found that's a pretty typical price wherever you go. Another popular American shop for chroming C-3PO is vacuummetallizing.ca.

You can read all about vacuum metalizing at StarWarsHelmets.com Jez has a great article on trying to get the perfect finish on his C-3PO helmets.

Article review:
Our opinions differ on the results. When you read Jez's article, scroll about 2/3 of the way down and see Jez's "Comparisons of the Two Approaches" section. He prefers a less reflective, but consistent finish of the left helmet. I prefer the more reflective, imperfect finish of the right helmet. My opinion is that people aren't going to be examining your finish from 2 inches away. I'd much rather have the majority of the finish have crisp reflections even if there were a few small rough spots. rather than the all over, hazy finish.

Recommendation Update
M & M Metalizing in southern CA does NOT want C-3PO projects, so don't contact them. Originally I had recommended them, after they estimated $350 to chrome 35 pieces. After it arrived in LA the estimate jumped to $1500, then to $3500! They said it's just too much work. Mike at M&M said he got a ton of calls about C-3PO chroming.


Soft Parts:
For those "wearable" costumes, Here are a few items you'll need under the armor.
SHOES


Click here to search ebay for "Chinese Kung Fu Shoes". Daniels said he wore slip on shoes, and you'll want the lowest profile shoes possible. These shoes fit underneath the screen-accurate shoe shells. C-3PO 's screen-accurate feet shells fit up to a size 9 foot.
BODYSUIT
Island Scuba
The dive skin that stormtroopers use also works for C-3PO . However, the only place you see it showing through is at the elbow and the back of the knees. You could get away with wearing any tight-fitting black clothing, as long as the knee backs, elbows and midsection show black and wires.
I also found that a Tummy Trimmer worn underneath the bodysuit helps keep your back supported.
HOOD
Any thin, swat-style balaclava will work.


GLOVES


I found glove liners work best for a snug fit. These are $3 a pair. Gr8gear.com
NECK


I cut out a thin piece of plastic (thinner that sintra or styrene, almost like plastic poster board) glued black foam liner to the inside and added velcro, then painted the plastic.
BELLY WIRES


Here's how I did mine:


Kevoris did his using zip ties


I found ribbed rubber floor mat at the hardware store for sale by the foot. Don Bies said since AOTC they cast the mat in silicone for better flexibility and comfort. Black, wide wale corduroy will work as well for this prequel look. He also said they also used a lot of vinyl string in addition to actual wires.
I went by the craft store (Michaels, Walmart, Jo-Ann Fabrics, A.C. Moore, etc) and found an entire section stocked full of the vinyl string (also known as gimp, or plastic lace) in every color imaginable. The brand names are Toner Plastics and Rexlace. These will work for wiring and you'll be able to get the colors accurate! It's the same kind of string kids use to make beaded necklaces, keychains, etc. I got a bag of 12 different colors totalling 400ft. for about $4. This stuff is super cheap. It works well for the hand wires too.
Another idea which I ended up using is t-shirt puff paints applied directly to my black spandex shirt. I used blue, red, yellow, orange and gray. I also cut the pointy tip off the bottle so the "wires" would be the appropriate width. I'll probably redo my gloves like this too.


Machined Aluminum Parts


For machined aluminum C-3PO parts, I recommend 501st member Lucas Alvarez [TK2111] has amazing pieces for C-3PO, Tusken Raiders, R2D2, and other Star Wars characters. Screen accurate, fast shipping at great prices.

Russell has produced several parts in machined aluminum. For more info, contact him here: cambareng@hotmail.com He will cut the price if you order more than one piece. He makes the head antenna, eye grills and other parts for C-3PO.



Legs:
For keeping the knees together, I used the screw from the knee piston and added a screw/nut on the opposite side of the knee (I know, not accurate). Then I took small bungee cords, looped the hooks around the screws, tightened the screws, and stretched the cords up to the top of the thigh where there are grooves on both sides of the leg (just like they were made for it!) Anthony Daniels commented that that was almost exactly how his are done.



Costume Voice Amp
I use the compact Aker voice amp for all my costumes. It's perfect for C-3PO or R2D2! The amplified voice effect is LOUD and clear. You'd wear it inside your chest armor. It has an input for the mic and a second input for an MP3 player so you can speak AND play sound effects at the same time. Or you can use just the MP3 input for use inside R2D2. It's fantastic. Comes with a charger so it's all self-contained. Perfect for crowds since you can hear it across the street!
From TK Electronics. The speaker can be worn behind the chest plate since it comes with a neck strap.