Gaffi Stick: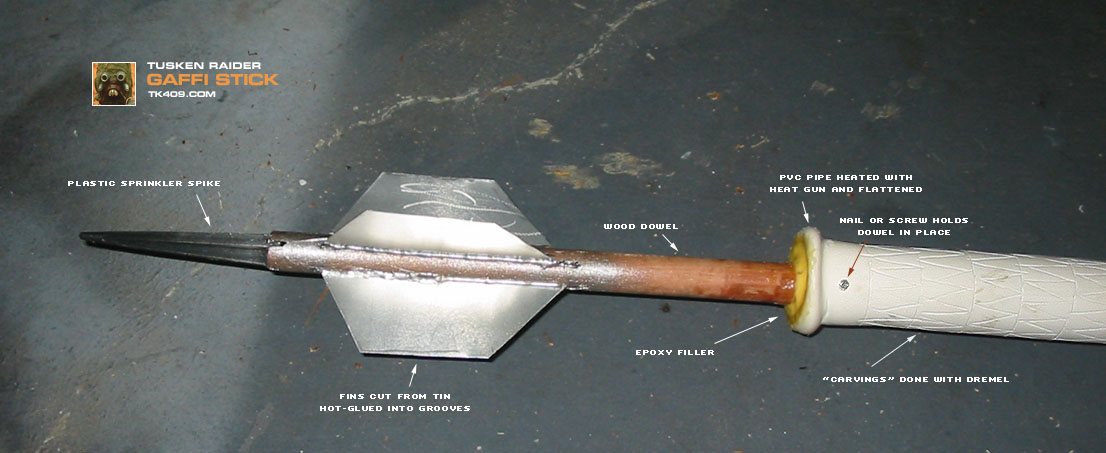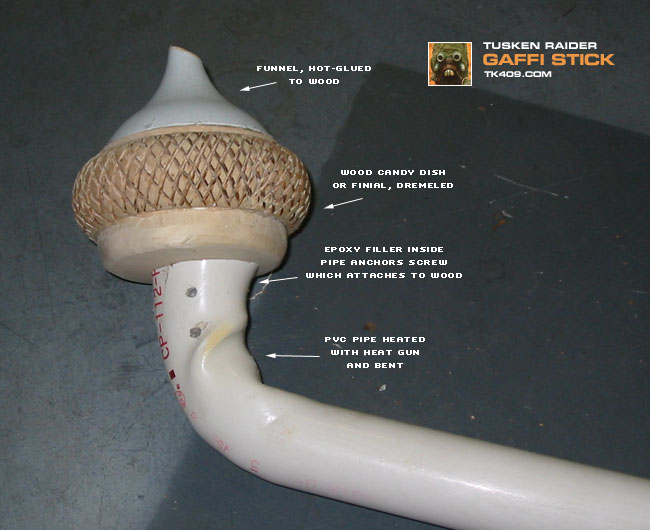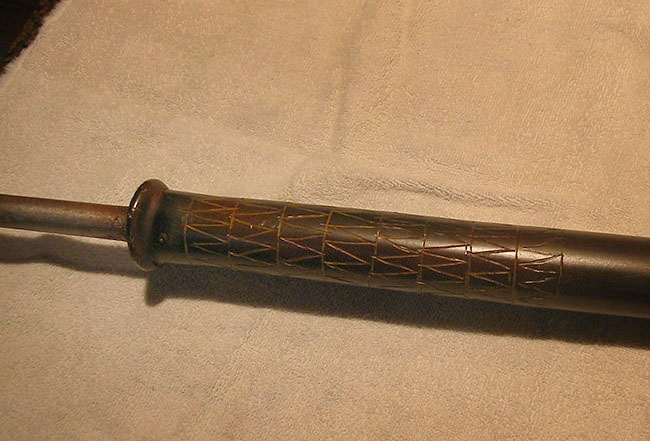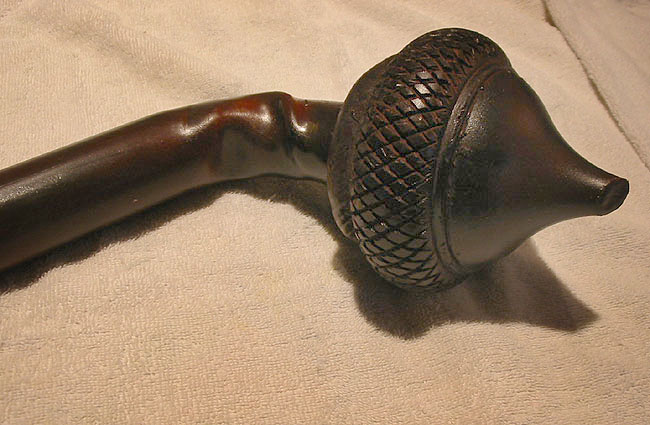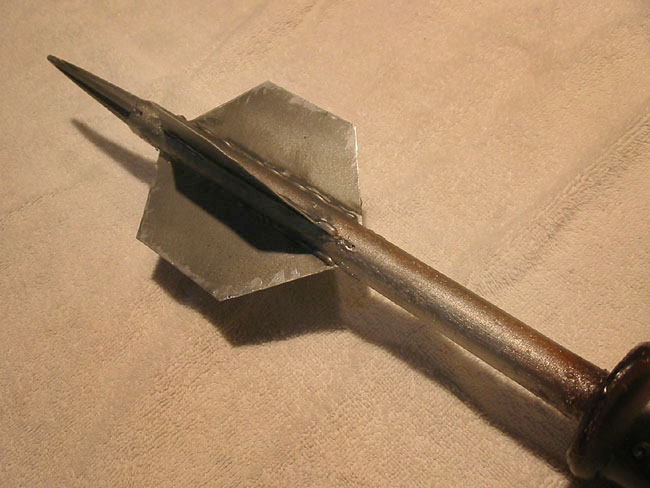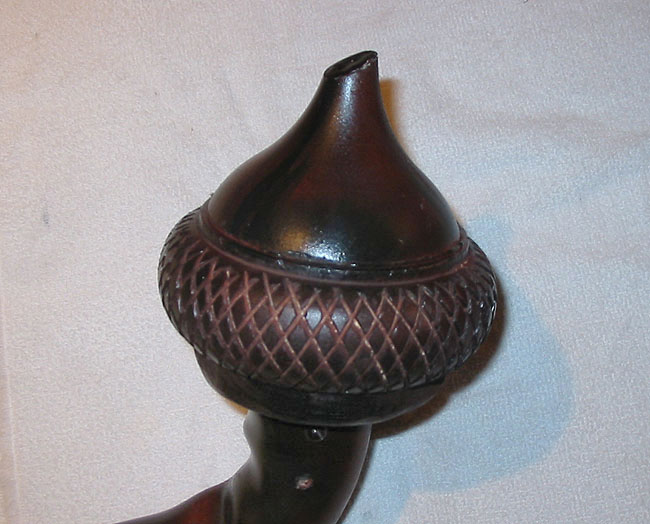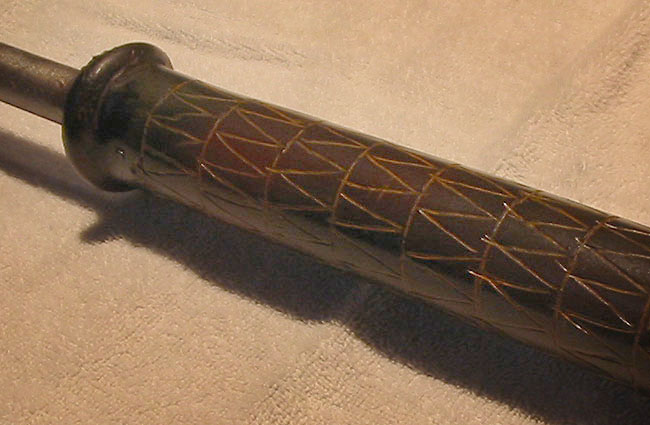 Make your own using instructions on the photos, or grab one of Tom Spina's excellent castings from a real Fijian Totokia War club - just like they used in the movies.
I made my gaffi club end out of a wooden candy bowl from AC Moore (Craft store). The spike was made by heating up a sheet of plastic, then poking a wood dowel down inside. After that I filled the inside with expanding foam, let harden, trimmed the extra, and hot-glued to wood bowl. You can find styrene sheets on ebay. Total cost about $15. Total work time, about 30mins.
Tools needed: Dremel, triangle-shaped file, X-acto knife.

Rifle:
David over at djsyczlo.net has a great tutorial on a Tusken rifle replica. Personally, I feel that the proportions could be improved, namely: slightly longer stock and thicker barrel. As he puts it: "There are various styles of rifles used by the Tusken Raiders... Not 100% exact but it will work for what I am using this Tusken Raider rifle for."

Tusken reference from screenshots from "The Phantom Menace":

Female Tusken:
Reference:

Mask:
Contact 501st member Steve. for some great Female Tusken mask kits.

Gloves:
Females don't wear leather gloves. I use these cotton parade gloves (under $2) as these are closest to the screen-used gloves. Use tan RIT dye to color them. Shawl:
The female outer robe or shawl is made with strips of monks cloth. Dean Plantamura "TuskenTrooper" shares his tutorial here:

Photos!

Robes:

They travel in single file to hide their numbers, but nothing can hide those hard-to-remove blood and dirt stains! Those Tuskens are filthy creatures.
This tattered replica of the Tusken inner robe is a life size, wearable costume piece. For a robe with long sleeves, choose the "Outer Robe". Both are made of a thick 100% preshrunk chunky cotton weave (not yucky burlap). See photos above.
COLORS
There are a few different colors for Tusken robes. Pick your favorite and do your own color weathering using either a mist of brown and black spray paint or RIT liquid dye. I recommend liquid dye mixing tan and gray.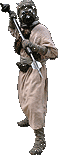 Inner Robe
$85


The robe in the photos above has been trimmed shorter, but the one being offered is the full 60" long (floor length). Because it's the inner robe, the sleeves are shorter for comfort when wearing both the inner and outer robes. Robe measures 60" tall x 50" wide.
Please Note:
Robes shown above have been dyed by the costumer. Contact Dawn if you have any questions on your order.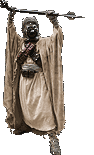 Outer Robe
$110


Just like the inner robe only wider for long sleeves. It can be worn alone, or layered. Robe measures 70" wide x 60" tall.

Respirator:
Breather was a tomato paste can, slit lengthwise and drained, then wrapped with brown leather, then weathered with black tempera paint. Bendable wire was slipped into flexible plastic tubing, then painted silver. THoles are drilled in each end of the can. The tube was run through the holes and connect back together at the back. WD-40 bottle caps and brass fittings are used to detail the ends of the can.
Gloves:
Use the super cheap white canvas work gloves, then weather with misting of gray and brown or khaki spraypaint.

Bandoliers: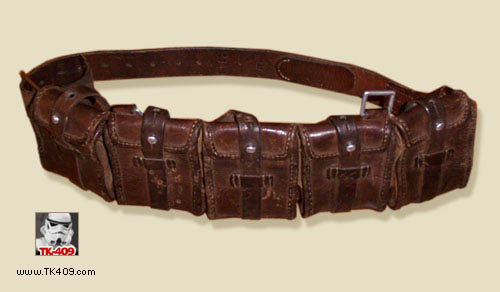 The ammo belt or bandoliers were Swedish bandoliers (or ammo belt) regularly found on ebay for about $30 each. The other ammo pouches are WWI and are common on ebay for about $10. Search for "Ammo Belt", "Bandoliers", or "Leather Ammo".
See Stormtrooperguy's easy tutorial for making your own bandoliers.
The shoes are just old sneakers wrapped with the same strips of duck cloth as the head using hot glue. The trick is to make legs from a square material and glue diagonal strips to it. Then hot glue or sew velcro and wrap around leg. Then when you put the shoes on separately, have a couple long strips attached to the shoe and wrap those up your leg to give it a continuous wrapped look. Repeat for the arms.


$19.99
Bad Robots
T-Shirt
Power Converters not included.

These droids aren't bad, just drawn that way. Art by Chris F. Bartlett. Printed on 4.5oz, 100% soft spun cotton, fitted t-shirts. Sporty v-necks for the girls. Not your father's boxy tees.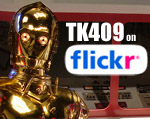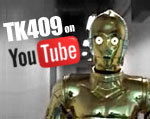 Tusken Links: Studio Creations
The original Tusken costuming site.

Tuskens on Facebook Pics & Reference


Krayt Clan
Great Tusken & Jawa forum!




Reference Photos:
Original Trilogy:

Prequel Trilogy:
Coming Soon!

Head: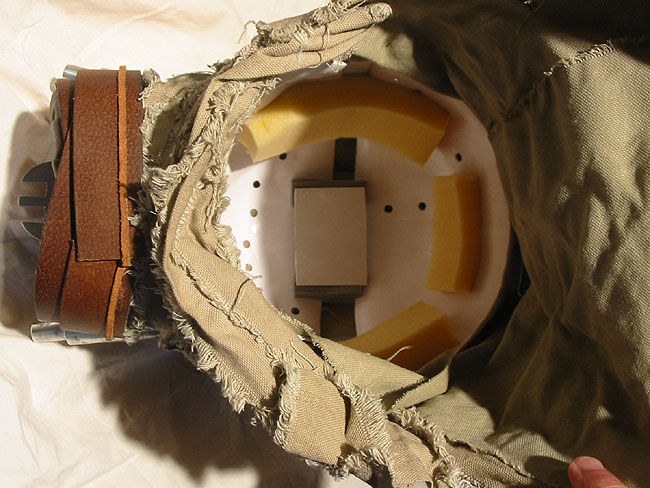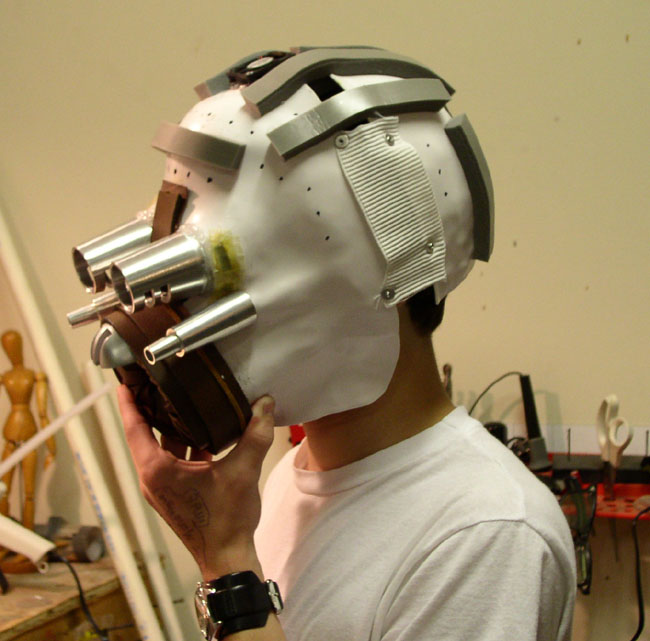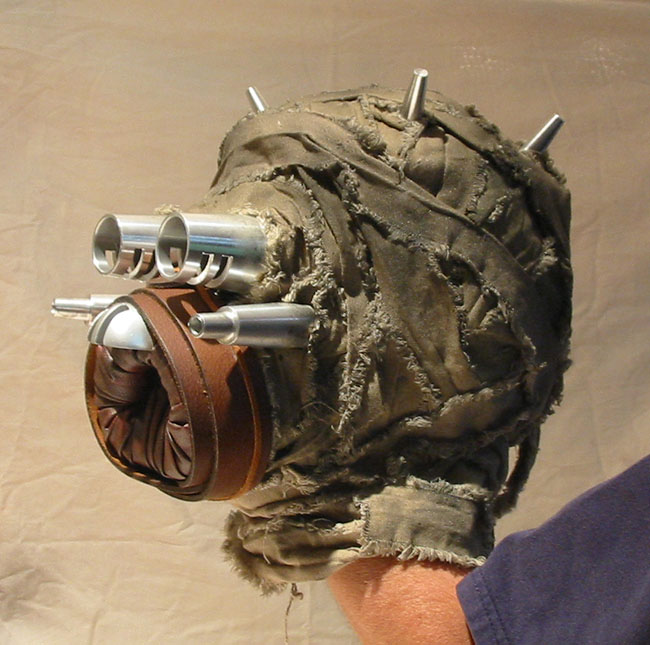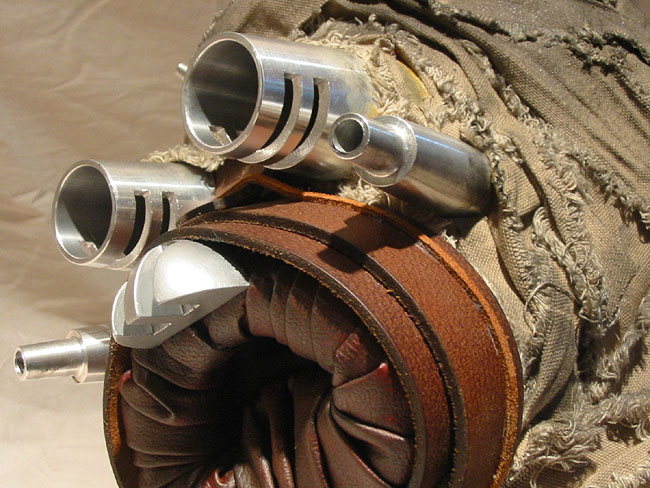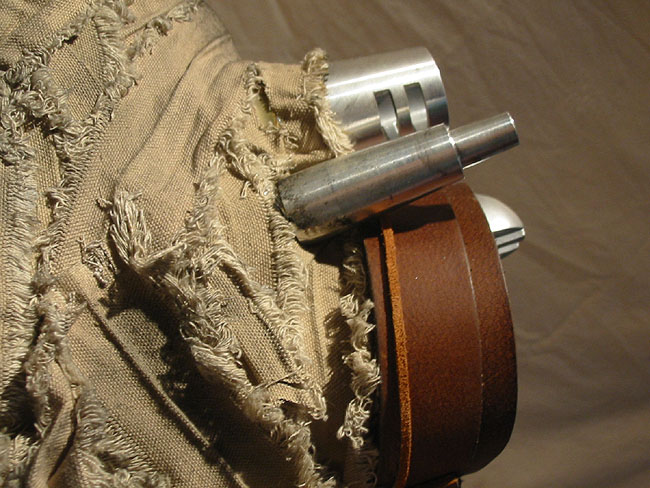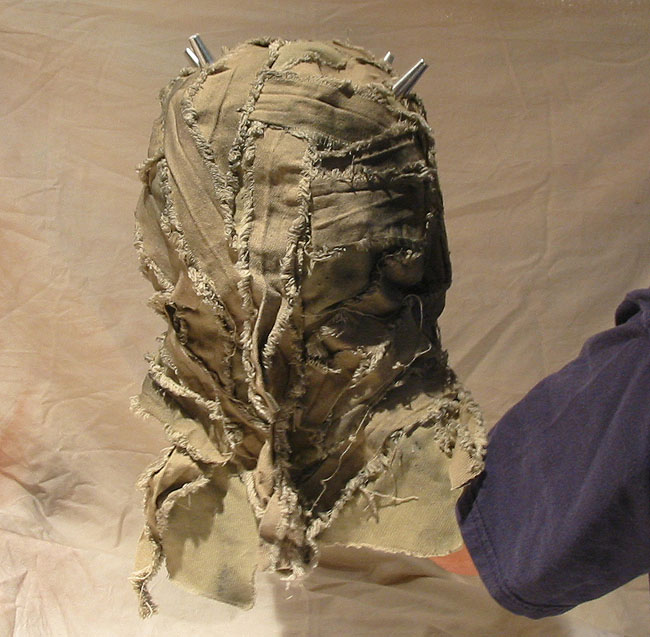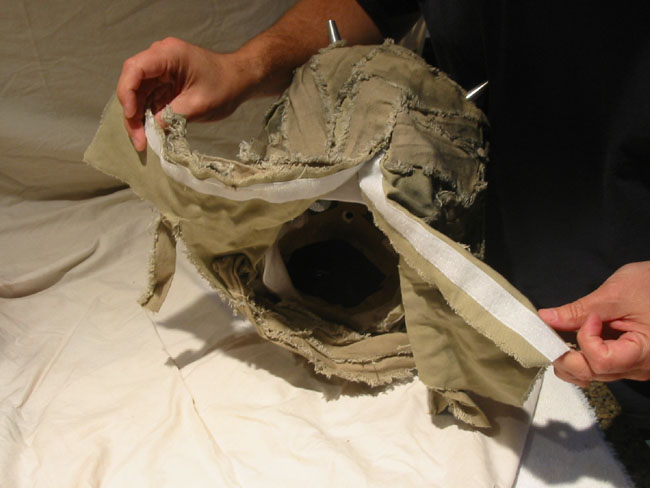 The best and most expensive kit out there is the "Godzilla" head kit, which comes with everything you need.
Andy Miller (aka Mr. Fett) makes the smaller prequel-sized head shells and the metal parts were machined by him as well.
Kevin Christley makes a taller, more accurate original trilogy head shell, like the one on my latest Tusken head.
The most accurate sized machined aluminium face parts are available through KingJawa. These can also be seen on my latest Tusken.
A very common mistake Tusken costumers make on their heads is using material that is cream-colored - this is too light. The wrap material used should not be a cream or canvas color, but dark khaki. I cut khaki duck cloth into strips and washed and dried them. (a few knots to cut through afterwards - but worth it!) Then I wrapped them to the head using hot glue (use the big gun). Then I misted it with black spray paint in places and dabbed on a wash of black tempera paint.
Mouth For the inner mouth I pretty much use the Studiocreations tutorial on his site. A long rectangular piece of material. It doesn't have to be very wide, maybe less than 6 inches, but it's probably close to 3 feet long. I basically start at the top under the outside of where the nose sits and then hotglue it right side up at one end of the length. Then fold the next bit back onto itself and hotglue the inside of the part you just folded back onto that part of the first section that is showing. Then back down right side up again, back and forth this way. Then tuck it around inside the mouth hole and glue the excess slack around the inside of the headshell. The bigger space you put between each pleat, the bigger the folds will look and vice versa with making the pleats closer together. Going around the jaw line is a little tricky because sometimes there's too much material there and you may have to cut some.